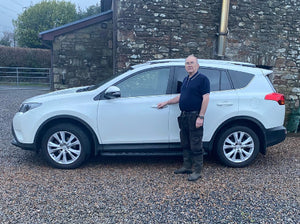 Customer Review
Jim Thomas, Wales
I first used the FTC pellets way back in my Land Rover Freelander. I
remember the pellets worked so well that at the MOT every year the
garage could barely get an emission reading because it was running so
clean! I recommended FTC to my son Phillip who started using the
pellets in his family cars. I've just bought a 2013 Toyota Rav4 2.2 D-4D and have added the FTC pellets to get the fuel injectors, valves and engine as clean as possible. As the engine gets cleared of all the carbon that's built up over the years I expect to see lots of improvements. FTC is a fantastic product which I always recommend.