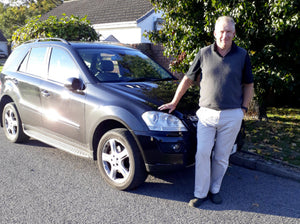 Customer Review
David Harris, Dorset
I'd owned the ML for 8 months and it had 105,296 miles on the clock, when it was time for the 2017 MOT. At the test, the emission reading was 2.46 l/m and the examiner warned that it had only just scraped through. He said that with the change in emissions legislation from May 2018 onwards, if they were the same, it would fail the test and would have to be taken off the road. The acceptable level for the car, under the official guidelines, would then be 1.50 l/m.
Several months later I mentioned the MOT emissions problem to an old friend. He suggested trying FTC, so I bought some and added them to the tank.
After nearly 8,000 miles with FTC, I took the ML back for the 2018 MOT test. The emissions had now fallen to 0.68 l/m easily passing the emissions element of the MOT and well under the new 1.50 l/m limit.
Fast forward 5,924 miles to the latest MOT test. The emissions have now reduced even further to just 0.10 l/m. It's fair to say that the MOT examiners were surprised to see yet another big drop in the emissions. They've now tested the ML 3 times since it barely passed in 2017 and have seen the reductions in emissions for themselves. The miles per gallon is up from 26 to an overall average of 29mpg. I'm exceptionally pleased with the results I've gained as well as with the cars improved economy. 
 (MOT test results/certificates supplied)