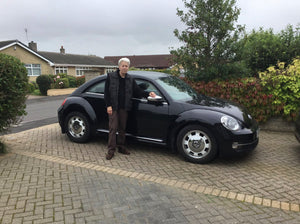 Customer Review
Anthony Bradbury, Yorkshire
Over years I've seen FTC advertised in the papers but, to be honest, I dismissed it as a bit of a gimmick. Then it dawned on me, FTC wouldn't have been advertising in the national press for years with Mike Brewer endorsing it if it didn't work! Mike obviously looks at the details before he puts his name to something.
So, I tried FTC in my 68k mile 2012 VW Beetle 1.2 tsi which I've owned for the last 4 years. And within a week what a massive difference…..it starts on the button…..it's quicker off the mark…….the power when the turbo kicks in is unbelievable……and I'm sure it's doing more miles to the gallon but I've not checked yet as I've been so happy with everything else. The car has never driven like this since I bought it. I have to say I am completely shocked and very, very, very happy indeed.
At my age the beetle will probably be my last car. But the best thing about FTC is I never need to buy the pellets again! If people follow Mike's advice, like me, they'll certainly thank him for it. So, to Mike and everyone at FTC please keep up the good work telling people the truth about the little pellets. Absolutely brilliant product. Well done lads.